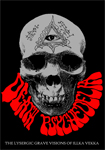 From Crucialblast.net:
ILKKA VEKKA Death Psychedelia: The Artwork Of Ilkka Vekka CHAPBOOK
BLAZE11

A limited edition chapbook featuring the surreal collage art, psychedelic death visions, and Technicolor hallucinations of Finnish artist Ilkka Vekka, who is also known within the underground noise/industrial realm for his work in the band Haare.
From Ikuisuus:
Split tape with Finland's notorious Witch Christ...Haare track is called "The Crowning of the shadow" and it's a 30-minute crawl through a muddy acid hell ritual. Or something.
From Prison tatt records:
A 1-sided 12" featuring another "collaboration" (ie. me using a few samples but mostly my own recordings, like on Madon evankeliumi.) I won't let the cat out of the bag just yet as this will still take some time to come out, it will be limited to a mere 100 copies and because of the co-conspirator, this will probably sell out in a day or so...